2022 QC United Adult 5-aside Indoor Fall League
---
---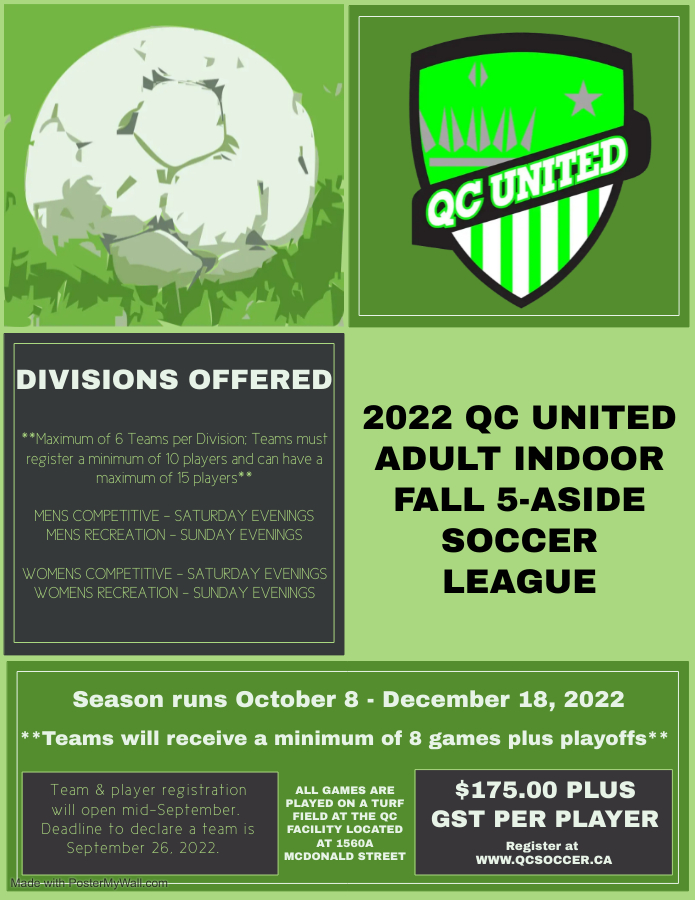 ---
QC will be offering a Fall Adult 5-aside Indoor Soccer League that runs from October 8 to December 18, 2022. Teams will receive a minimum of 8 games plus playoffs. The fee per player will be $175 plus GST (PST will be charged after October 1, 2022).
The following divisions will be offered:
Men's Competitive
Men's Recreation
Women's Competitive
Women's Recreation
Team and player registration will open September 15, 2022. The deadline to declare a team is October 3, 2022. .
The minimum number of players per team is 10 and teams can register a maximum of 15 players.
All games are played indoors on a turf surface at the QC Facility located at 1560A McDonald Street. Games are 5-aside (4 field players plus a goalkeeper). Field dimensions are approximately 31 yards wide x 40 yards long.
Select the following for more information: Adult Manager and Player Registration Information, Adult League Rules and Adult League Policies and Procedures.