Trip of the Month
---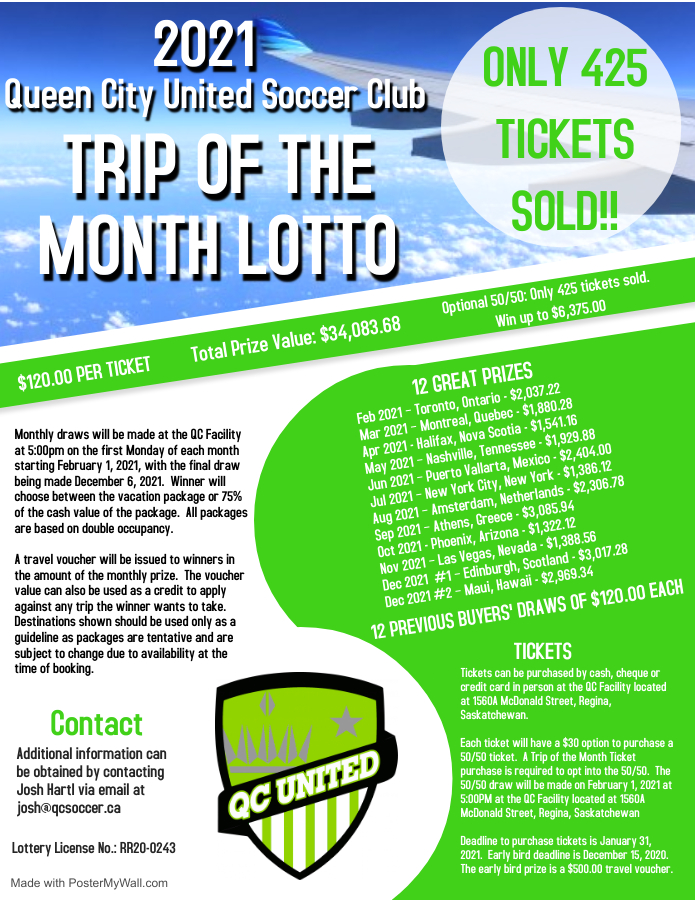 QC Trip of the Month Lotto
Tickets for our 2nd Annual Trip of the Month Lotto are now on sale and while things may look a little different this year with uncertainty surrounding travel; it's important to note that trips and travel vouchers can be redeemed up to a year from the draw date and for those who aren't comfortable travelling, the 75% cash option is still a nice consolation prize!
This year we've added 12 monthly previous buyer's draws of $120.00, as well as a $30.00 50/50 optional add on (a trip of the month ticket is required to purchase a 50/50 ticket. 50/50 tickets are not sold separately. You can win up to $6,375.00!!). The total prize value for the raffle is $34,083.68.
Only 425 tickets will be sold and each ticket is $120.00. The early bird deadline is December 15, 2020 and the early bird prize is a $500 travel voucher. The deadline to purchase tickets is January 31, 2021 (or while supplies last). Draws will be completed on the first Monday of each month starting February 1, 2021, with the final draw being made December 6, 2021.
If interested in purchasing a ticket, please contact Josh at josh@qcsoccer.ca and provide the following information:
Name
Address
Phone number
Email address
Confirmation of whether you would like to opt in to the $30.00 50/50
Payment can be made by cheque, debit or credit card.
2021 Prizes
Month
Draw Date
Category
Prize
Prize Value
Winner
Ticket Number
February
01-Feb-21
Early Bird Draw
Travel Voucher
$ 500.00
01-Feb-21
50/50
Cash
Up to $6,375.00
01-Feb-21
Previous Buyer's Draw
Cash
$ 120.00
01-Feb-21
Trip of the Month
Trip for 2 to Toronto, Ontario - 4 nights and round trip airfaire
$ 2,037.22
March
01-Mar-21
Previous Buyer's Draw
Cash
$ 120.00
01-Mar-21
Trip of the Month
Trip for 2 to Montreal, Quebec - 3 nights and round trip airfare
$ 1,880.28
April
05-Apr-21
Previous Buyer's Draw
Cash
$ 120.00
05-Apr-21
Trip of the Month
Trip for 2 to Halifax, Nova Scotia - 4 nights and round trip airfare
$ 1,541.16
May
03-May-21
Previous Buyer's Draw
Cash
$ 120.00
03-May-21
Trip of the Month
Trip for 2 to Nashville, Tennessee - 6 nights and round trip airfare
$ 1,929.88
June
07-Jun-21
Previous Buyer's Draw
Cash
$ 120.00
07-Jun-21
Trip of the Month
Trip for 2 to Puerto Vallarta, Mexico - 7 days all inclusive and round trip airfare
$ 2,404.00
July
05-Jul-21
Previous Buyer's Draw
Cash
$ 120.00
05-Jul-21
Trip of the Month
Trip for 2 to New York City, New York - 4 nights and round trip airfare
$ 1,386.12
August
02-Aug-21
Previous Buyer's Draw
Cash
$ 120.00
02-Aug-21
Trip of the Month
Trip for 2 to Amsterdam, Netherlands - 6 nights and round trip airfare
$ 2,306.78
September
06-Sep-21
Previous Buyer's Draw
Cash
$ 120.00
06-Sep-21
Trip of the Month
Trip for 2 to Athens, Greece - 6 nights and round trip airfare
$ 3,085.94
October
04-Oct-21
Previous Buyer's Draw
Cash
$ 120.00
04-Oct-21
Trip of the Month
Trip for 2 to Phoenix, Arizona - 3 nights and round trip airfare
$ 1,322.12
November
01-Nov-21
Previous Buyer's Draw
Cash
$ 120.00
01-Nov-21
Trip of the Month
Trip for 2 to Las Vegas, Nevada - 3 nights and round trip airfare
$ 1,388.56
December
06-Dec-21
Previous Buyer's Draw #1
Cash
$ 120.00
06-Dec-21
Trip of the Month #1
Trip for 2 to Edinburgh, Scotland - 6 nights and round trip airfare
$ 3,017.28
06-Dec-21
Previous Buyer's Draw #2
Cash
$ 120.00
06-Dec-21
Trip of the Month #2
Trip for 2 to Maui, Hawaii - 7 nights and round trip airfare
$ 2,969.34
2020 Prize Winners
Early Bird Draw - $500 travel voucher - Winner - Catherine Auten (Ticket No. 132)
Nov 2019 - Disneyland, Anaheim, California - $2,698.66 - Winner - Helen Gannitsos (Ticket No. 033)
Dec 2019 - Las Vegas, Nevada - $1,539.50 - Winner - Scott & Kate Langen (Ticket No. 092)
Jan 2020 - New York City, New York - $2,207.12 - Winner - Barb Turner (Ticket No. 183)
Feb 2020 - Barcelona, Spain - $3,390.90 - Winner - Brian & Linda Noe (Ticket No. 336)
Mar 2020 - Vancouver, British Columbia - $1,898.92 - Winner - Sean Biffin (Ticket No. 383)
Apr 2020 - Halifax, Nova Scotia - $2,234.12 - Winner - Rick Green (Ticket No. 106)
May 2020 - Honolulu, Hawaii - $2,470.08 - Winner - Lorraine Senko (Ticket No.082)
Jun 2020 - Palm Springs, California - $1,821.62 - Winner - Karl Dahle (Ticket No. 229)
Jul 2020 - Ottawa, Ontario - $1,752.30 - Winner - Lise Nargang (Ticket No. 042)
Aug 2020 - Puerto Vallarta, Mexico - $2,434.00 - Winner - Hugh Dooley (Ticket No. 162)
Sep 2020 - Montreal, Quebec - $1,667.64 - Winner - Tammy Churko (Ticket No. 309)
Oct 2020 - Rome, Italy - $3,361.90 - Winner Paul Morar (Ticket No. 051)